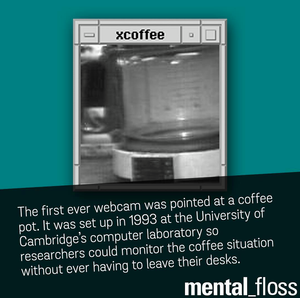 Who's watching your coffee pot?
When somebody brewed coffee in the computer lab at the University of Cambridge in the early 1990s, the coffee went fast. So fast, in fact, that they decided to set up a camera on the coffee pot. This allowed people whose desks were far from the machine to watch it on their computers and get there in time for a fresh cup.
This began as an internal thing, but eventually they hooked it up to the World Wide Web so people all around the world could watch the coffee brew. After the $100 machine broke down in 2001, the students sold it on eBay for about $4,800 USD.
Order your coffee at busandbeancoffee.com today. We promise no one is staring down your coffee beans!
Bus & Bean Coffee is great #coffee roasted and ground by #local friends. And oh yea, of course we deliver to your doorstep in our iconic #VWBus.
#specialtycoffee #hrva #busandbeancoffee #supportlocal #newportnews #hampton #hamptonroads #cnu #cnucaptains #coffeelife #coffeelover #visitvirginia #757proud #vaisforlovers #shopsmall #craftcoffee #757coffee #groundcoffee #coffeebeans #roastedcoffee
---