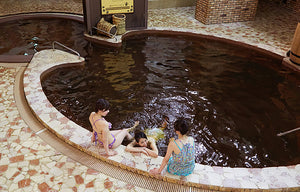 Relaxing in a pool of medium roast
Who wouldn't love to bathe in coffee! 😎 🍮 
Of all Japanese contributions to coffee culture, this is probably the strangest. Hakone Kowakien Yunessun Spa and Resort in Japan has a pool of coffee that guests can bathe in.
Order your coffee at busandbeancoffee.com today!
Bus & Bean Coffee is great #coffee roasted and ground by #local friends. And oh yea, of course we deliver to your doorstep in our iconic #VWBus.
#specialtycoffee #hrva #busandbeancoffee #supportlocal #newportnews #hampton #hamptonroads #cnu #cnucaptains #coffeelife #coffeelover #visitvirginia #757proud #vaisforlovers #shopsmall #craftcoffee #757coffee #groundcoffee #coffeebeans #roastedcoffee
*Thanks to our friends at beanpoet.com for the interesting coffee story.
---