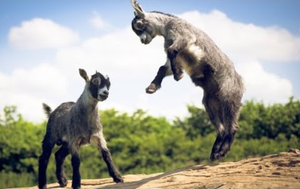 Did you know that coffee dates back to 800 A.D.?
Legend has it that 9th-century goat herders noticed the effect caffeine had on their goats, who appeared to "dance" after eating the fruit of the Coffea plant. A local monk then made a drink with the produce and found that it kept him awake at night, thus the original cup of coffee was born.
Order your coffee at busandbeancoffee.com today. Let's dance!
Thanks, goodhousekeeping.com, for the trivia.
Bus & Bean Coffee is great #coffee ground and roasted by #local friends. And oh yea, of course we deliver to your doorstep in our iconic #VWBus.
#specialtycoffee #hrva #busandbeancoffee #coffee #supportlocal #newportnews #hampton #hamptonroads #cnu #cnucaptains #coffeelife #coffeelover #visitvirginia #757proud #vaisforlovers #shopsmall #craftcoffee #757coffee #groundcoffee #coffeebeans #roastedcoffee
---